July 12, 2022
Dear Friends, 
As we kicked off summer, my office was hard at work introducing legislation, launching safety improvements, beautifying our parks, and responding to the needs of CD4 residents. Read below for ten of last month's accomplishments: 
1. Bringing the road revolution home to the 4th District, we launched a groundbreaking pilot project in Griffith Park to reduce cut-through traffic and improve safety for people who walk, bike, roll, and ride horses in the park. In close partnership with the Department of Recreation & Parks, we've blocked a ⅔-mile stretch of Griffith Park Drive from Travel Town to Mt. Hollywood Drive to most cars to reduce speeding and cut-through traffic from people looking to avoid congestion on the highways.
This pilot and a concurrent study by a traffic consultant are the first steps toward increasing safety for everyone who uses the park and to expanding active transportation options. We're looking forward to sharing the results of the study later this month! You can read more about the project here and submit any feedback to our Transportation Deputy at [email protected].  
2. In further efforts to keep our parks and green spaces safe and clean, we partnered with Friends of the LA River to host our annual river clean up. Over 200 volunteers joined us bright and early on a Saturday morning, helping to remove trash that would otherwise pollute the river and harm wildlife before dumping into the Pacific Ocean. From trees and sandbar islands to lots of birds, including ducks, stilts, egrets, and herons this particular stretch of river at the historic Bette Davis Picnic Area in Griffith Park is a truly special place in CD4. I'm so grateful to everyone who joined us to preserve this unique area that is so vital to the surrounding natural habitat and local community.
3. Our Community Education team knocked on 230 doors in Reseda as part of my office's continued efforts to inform residents about available resources. While door knocking, Community Education Coordinator Alex Naseef met a constituent who was facing eviction for non-payment of rent. Alex was able to connect her with one of our District Liaisons who helped file a Housing Department case and referred her to StayHoused for legal assistance – an investigator has since been assigned to her case. I am so grateful to my team for consistently going above and beyond to ensure that residents of CD4 take every opportunity to utilize the systems meant to protect them, effectively "bringing City Hall to you."
4. My office also worked to extend the Project Roomkey site in our district for another 2 months, to ensure that people who are currently housed here are able to have the time they need to work with their housing navigators to transition into other interim or permanent housing options. While Roomkey sites are not directly managed by Council offices, we have been working with LAHSA and the Office of the City Administrative Officer to advocate for better outcomes: the closure of these sites should not result in people returning to the streets. 
5. Our Encampment-to-Home Program in Hollywood assisted an additional six people into shelter. I'd like to extend a huge thank you to The People Concern for leading this work – these individuals are now receiving additional services including housing navigation as a result of their transition into shelter.  
6. We celebrated the completion of the Odin Street underpass mural restoration in Hollywood, made possible through the collaborative efforts of community members, City departments, and restoration experts. Titled "Blue Moon Trilogy," artist Russell Carlton originally began the mural in 1987 with funding from AIDS Project Los Angeles, to serve as a message of hope at the height of the AIDS crisis, which Carlton lost his life to the following year. After two years of unprecedented loss and hardship, this message is as timely and meaningful in this moment as ever. For more information on the conservation effort and the history of the Blue Moon Trilogy, visit Fine Art Conservation Lab's website at bit.ly/odinmural. 
7. My office secured significant safety improvements along Mulholland Drive in Laurel Canyon. As part of our efforts to maximize the benefits from the City's scheduled resurfacing projects in our District, we worked with LADOT to create a safer Mulholland Drive from Laurel Canyon Blvd to Wrightwood Dr, including narrower driving lanes, wider shoulders wherever possible, and anti-burnout features at Mulholland Dr and Dona Pegita Dr which also reinforce an existing "No Left Turns" sign. 
8. Our District Liaisons fielded over 550 phone calls from constituents! From securing tree-trimming to advocating for brush clearance, getting a parking lot re-striped to assisting with permits, our District Liaisons were able to meet constituents' needs and help connect them with the right departments across the City. 
9. I introduced a motion to establish the City of Los Angeles as a safe-haven for abortion care. Following the Supreme Court's devastating decision overturning Roe v. Wade, my motion requests that the City Attorney draft an ordinance to ban any City resources from being used to detain anyone procuring, performing, or aiding in abortion care in the City of Los Angeles and from being used to cooperate with out-of-state investigations related to abortion care. Additionally, the motion instructs the City Administrative Officer (CAO) to find ways for the City of LA to subsidize costs for persons from other states seeking abortion care.
10. And finally, we kicked off summer with a favorite tradition since taking office – a solstice hike in honor of the late, great Tom LaBonge. Tom's summer solstice hikes were a thing of legend, and I was honored to join the LaBonge family, City leaders, and community members to carry on the legacy. If you have never hiked to the top of the Tom LaBonge Panorama in Griffith Park, I can't recommend it enough – with stunning views of the City, it's a perfect place to take a moment, and to celebrate just how lucky we are to live here in this beautiful city. 
With Love,
Was this email forwarded to you? Subscribe to future newsletters at bit.ly/cd4news !
---
APPLY FOR SMALL BUSINESS RENTAL ASSISTANCE | JULY 11-20
This Monday, July 11, the Economic & Workforce Development Department launched Round 2 of the City of LA's Small Business Rental Assistance Program! The program provides grants of up to $15,000 or six months of back rent (whichever is less) to eligible businesses located in the City that need financial assistance to aid in their recovery from COVID-19. Applications are due by July 20! For more info and to apply, visit bit.ly/lasmallbizgrant.
WILDLIFE ORDINANCE VIRTUAL PUBLIC HEARING | JULY 13 @ 5 PM
The proposed Wildlife District Ordinance, aims to balance wildlife habitat and connectivity with private property development, thereby achieving more sustainable outcomes in the hillsides and habitats of Los Angeles.
Next Wednesday, City Planning will hold a public hearing on the new draft of the proposed ordinance before the intended consideration by the City Planning Commission in fall 2022. This hearing is an important chance to weigh in with your feedback! 
Virtual Public Hearing | Wednesday, July 13, 2022| 5-7 PM | RSVP
The interactive map, draft ordinance, and more information can be found on the project webpage at planning4la.org/wildlife.
HAVE QUESTIONS ABOUT THE FUTURE OF VENTURA BLVD AND THE CAHUENGA PASS? JOIN UPCOMING PLANNING OFFICE HOURS | JULY 13-14 & 18-19
The City Planning Department recently released land use concepts for the Ventura-Cahuenga corridor in the Sherman Oaks, Studio City, and Cahuenga Pass neighborhoods. The Southeast Valley Community Plan (CPU) Updates Team is hosting virtual Office Hours sessions on July 13-14 and July 18-19, to solicit input on these concepts. You can participate in two ways: 
Appointment with a planner (45 minutes): 1:1 conversation with a member of the Southeast Valley CPU team | RSVP

Community Discussion (60 minutes): Small groups of up to eight people review the proposed concepts and have guided discussion with staff from the Southeast Valley CPU team and fellow community members  | RSVP
For more information about the Southeast Valley Community Plan Updates, visit planning4la.org/southeastvalleyplans 
DONATE SUPPLIES FOR CD4 STUDENTS AT OUR UPCOMING DRIVE! | JULY 30 @ 10 AM to 1 PM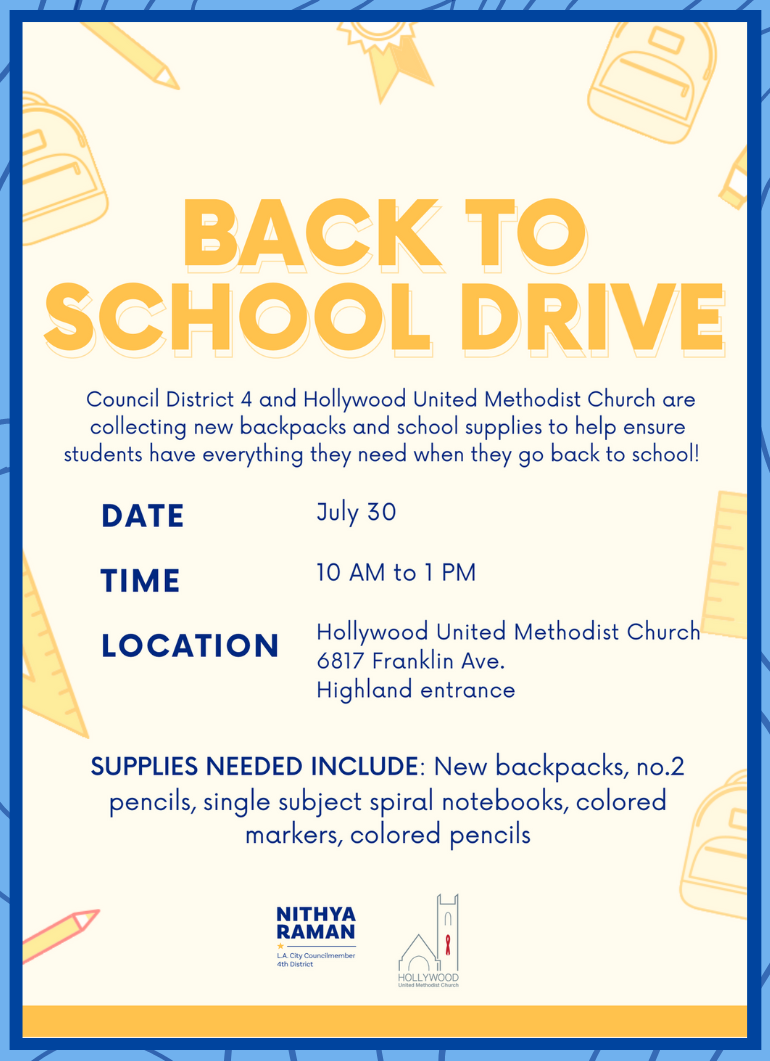 Help our students return to school with the supplies they need when they go back to school! Our office and Hollywood United Methodist Church will be collecting needed supplies on July 30th from 10 AM to 1 PM at Hollywood United Methodist Church at 6817 Franklin Ave (Highland entrance). Supplies needed include new backpacks, pencils, single subject spiral notebooks, colored markers, colored pencils, and new backpacks. For any questions, contact Alex Naseef at [email protected]. 
More CD4 Dates
Los Feliz Neighborhood Council Community Cleanup | July 17 @ 9 to 10 AM  
The LFNC meets every first Saturday and third Sunday of each month to beautify the community! The next meetup and cleanup is this Sunday, July 17, at Hollywood Blvd & Western Ave. 
Sherman Oaks Summer Movie Nights | July 23 & August 20 | More Info
Join our office and Sherman Oaks Neighborhood Council for movies in the park! The next movie in the series will be Ghostbusters Afterlife — bring a blanket, snacks, and get ready for a spooky summer night.
---
PAID FAMILY LEAVE GRANTS FOR BUSINESSES
The Greater San Fernando Valley Chamber of Commerce has been awarded a $500,000 grant from the CA Paid Family Leave Grant, which allows eligible small businesses in California with 1-100 employees with at least one employee utilizing California's Paid Family Leave program to apply for microgrants to offset the increased costs associated with the employee out on leave.
For more information, eligibility details, and to apply, visit CaliforniaPFL.com or call (818)989-0300.
STAY HEALTHY IN THE SUMMER HEAT 
This summer, make sure you and your neighbors stay healthy and cool in the heat with tips from #HeatRelief4LA: 
1. Join NotifyLA.org before heat waves arrive
2. Carry a cold water bottle + electrolytes if handy
3. Stay inside during peak heat 
4. Wear light colored/loose clothes
5. Check on your neighbors, especially senior adults & kids
We'll be sharing more of #HeatRelief4LA's information on how to keep yourself and others safe from heat stroke and illness throughout the month! For more immediate information, visit the Emergency Management Department's website HERE.
---

ENCINO, SHERMAN OAKS, & STUDIO CITY
LOS FELIZ & GRIFFITH PARK
Griffith Park Drive Closure
Date/Time: June 27 to August 2
Location: Griffith Park Drive at Travel Town and the gate near Mt Hollywood Drive
Details: In collaboration with our office, the Department of Recreation & Parks is piloting this closure to observe the effects on eliminating cut through freeway traffic and excessive speeding, and work towards making roads safer for passive recreation. Any unforeseen impacts on park operations will be addressed immediately.
Contact: Tracy James with Recreation & Parks at 323 661-9465 / [email protected].
RESEDA
Bus Boarding Island Construction 
Date/Time: Spring to Fall 2022
Location: Reseda & Strathern / Reseda & Saticoy
Details: The City will construct eleven concrete bus boarding islands at nine intersections (platforms separated from the sidewalk by a bike lane) on Reseda Blvd. Boarding islands improve safety and transit efficiency. Impacts may include partial road closures, traffic delays during peak hours, and temporary bus stop relocation or closure. For more information, click HERE.
Contact: [email protected] / (213) 978-0333