July 2, 2022 
Dear Friends, 
It has been a busy week in Chambers, as Council prepares for summer recess! 
On Tuesday, I introduced a motion, co-presented with Council President Nury Martinez, calling for an ordinance to establish the City of Los Angeles as a safe-haven for abortion. The proposed ordinance would ban *any* City resources from being used to detain anyone procuring, performing, or aiding in abortion care in the City of Los Angeles and from being used to cooperate with out-of-state investigations related to abortion care. Additionally, my motion asks the City Administrative Officer (CAO) to find ways for the City of LA to subsidize costs for persons from other states seeking abortion care.
With Roe overturned, 26 states are poised to ban abortion effective immediately, and many are also considering legislation that would criminalize out-of-state abortion care. We must ensure that LA acts as a sanctuary city for those seeking or assisting abortion care from outside our borders.
Tuesday also saw the passage of a motion I introduced in April, to develop a regionwide wildlife connectivity master plan. This plan will be developed  in partnership with neighboring jurisdictions and organizations, pooling resources, staff, funding, and expertise to ensure that regional efforts aimed at protecting native wildlife are not enacted in silos. The motion also directs the Department of City Planning to present a detailed plan to ensure that the planned Wildlife ordinance, currently under discussion and formulation, addresses the needs of wildlife protection throughout the City.
And last but not least, on Wednesday, Council adopted two of my resolutions in support of state bills for safer, more equitable streets. The first is AB2147, which seeks to decriminalize jaywalking when it is safe to cross the roadway. The second is AB1909 which aims to comprehensively change the rules and restrictions on bicycle operations in California, improving safety conditions for cyclists across the state. Many of the laws that govern our streets were designed to prioritize vehicles over pedestrians or cyclists. As we work to move away from a car-first approach to our streets, we need to update our rules and regulations to serve everyone, not just drivers. 
I am so grateful to everyone on my staff who helped prepare and draft this slate of legislation which brings us one step closer to our goal of protecting our civil liberties, preserving our environment, and making our streets safer for all. 
Wishing everyone a safe and happy holiday! 
With Love,
Was this email forwarded to you? Subscribe to future newsletters at bit.ly/cd4news !
---
CELEBRATE THE JULY 4TH SAFELY! | JULY 4
The best way to enjoy fireworks this Fourth of July is to attend a professional, public show! Not only is igniting fireworks dangerous — on average, 19,500 fires related to fireworks are reported to fire departments every year — it also ignores the people who live in your neighborhood. Improper use of personal fireworks can be upsetting for pets, babies and small children, elders, and veterans. Read more about how to stay firework-safe HERE. 
Illegal fireworks can often have unseen consequences -- causing injury and distress, especially to children, veterans, and pets, and increasing fire risk in our communities. Instead, find an approved fireworks show happening near you HERE, and report illegal fireworks in your area on your phone through MyLA311, or by calling 1-877-275-5273.
NEIGHBORHOOD CONNECT DAY | JULY 7
We're partnering with the Durant Library this summer to host regular Neighborhood Support Days with shower and laundry services for our unhoused neighbors. Neighborhood Support Days will take place on Thursdays from 10:00AM -2:30PM on the following dates: 7/7, 7/21, and 8/4. Help us spread the word! 
HEAR FROM YOUR REPRESENTATIVES IN SHERMAN OAKS | JULY 7
Join the Sherman Oaks Chamber of Commerce next Thursday from 11:30AM - 1:30PM for a luncheon opportunity with legislators and policy makers! I will be joining Assemblymember Adrin Nazarian, Senator Bob Hertzberg, and Assemblymember Laura Friedman to discuss local issues and participate in a Q&A session with attendees. Register HERE. 
CLOTHING DRIVE | JULY 9
With our partners NoHo Home Alliance and Hope of the Valley, we're collecting new and gently used t-shirts, jackets, sweatshirts (men's and gender-neutral clothing especially needed), belts, hats, sunglasses, and new socks, underwear, and new hygiene items like wipes, shampoo and conditioner, toothpaste + toothbrushes, soap, and hand sanitizer. 
CELEBRATE RESEDA WITH THE GETTY | JULY 9
Join Getty and 11:11 Projects at Reseda Park for this event bringing together artists, musicians, local arts organizations, and the San Fernando Valley's creative community. Enjoy hands-on art workshops, live music and performances, an immersive digital experience of Getty collections, giveaways, photo booths, food vendors, and more.
---
CELEBRATING VALLEY PRIDE
After last Friday's devastating Supreme Court decision, it was a truly special moment to join together in the streets for Valley Pride last weekend. In thinking about what this decision means for all of us, I was reminded that the origins of Pride were in protest – in gathering not just to celebrate, but to fight for one another. Thank you to Council President Nury Martinez for hosting this wonderful event and inviting us all to come together, lift each other up, and stand united against any attack on our civil liberties.
KICKING OFF SUMMER WITH MOVIES IN THE PARK
The community was out in full force to celebrate the beginning of summer last weekend! In Sherman Oaks, our office helped SONC kick off their summer movie series with a dusk screening of everyone's favorite – Disney's Encanto and over in Studio City, the park-goers were treated to a family classic – Raiders of the Lost Ark.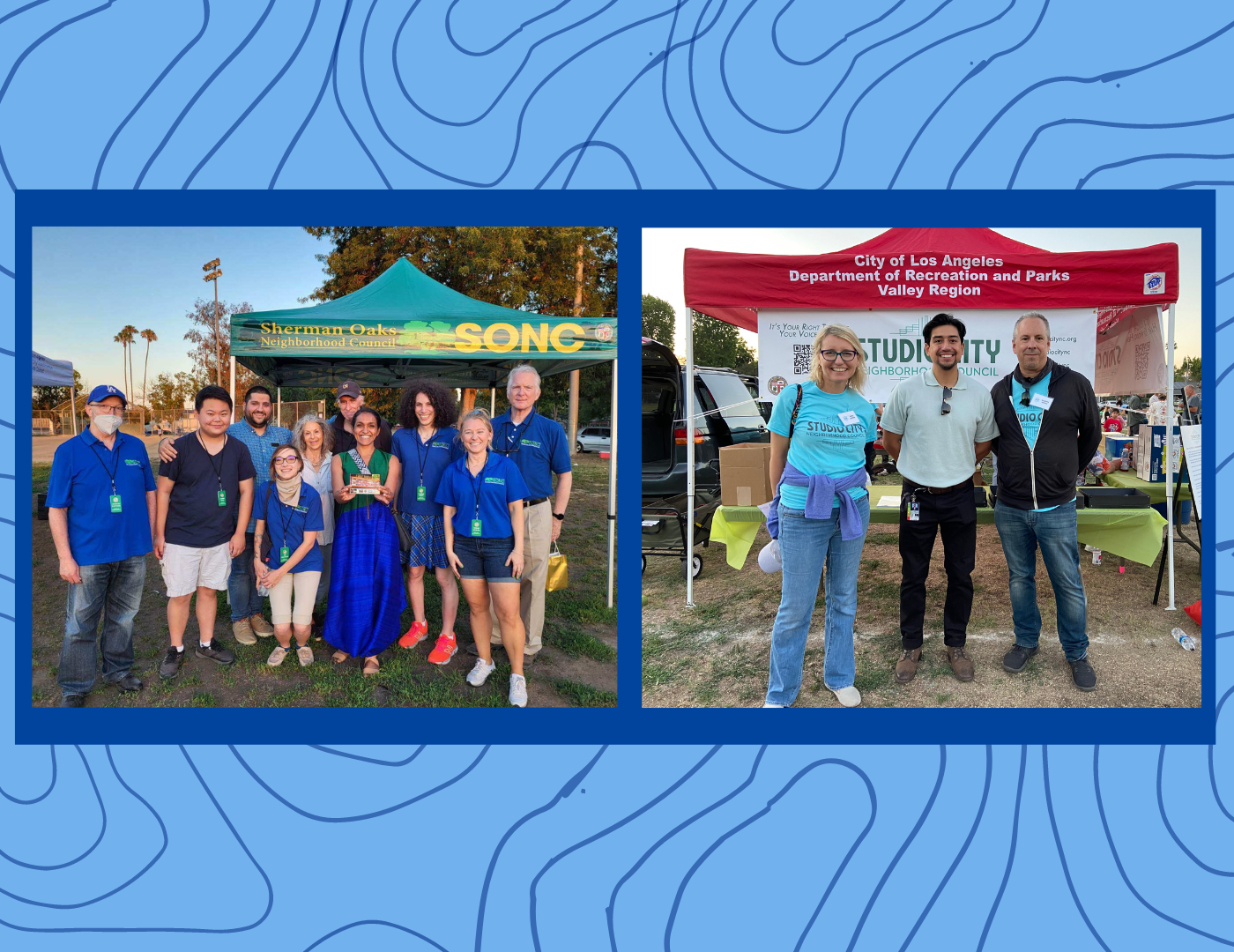 Join us on July 23 for the second night in the SONC Summer Movie Series, featuring a screening of Columbia Pictures' Ghostbusters Afterlife. 
A VISIT TO STATION 83 
I stopped by LAFD Station 83's open house on Sunday, to get a first glimpse at their new drought-resistant, low-maintenance pollinator garden. Our office helped make the expansion of this garden possible along with generous funding from the Encino Neighborhood Council. We've also been on-hand to provide assistance with weeding and site preparation. The sustainable landscaping at Station 83 will grow to provide crucial habitat for wildlife, including birds, bees, butterflies, and more! 
---
A COMMUNITY-BASED COMPROMISE ON PROPOSED SHERMAN OAKS CHICK-FIL-A
This week, I was pleased to announce that a compromise has been reached between community members and the applicant for the proposed Chick-fil-A location in Sherman Oaks. The beautifully designed and historically restored sit-down restaurant will not include a drive-through component and is the result of months of collaboration between my staff, Sherman Oaks constituents, Chick-fil-A representatives, and city departments to address community concerns and priorities.
I especially want to commend the engagement from so many local residents, and from groups like the Sherman Oaks Neighborhood Council's Planning and Land Use Management Committee (SONC PLUM) and the Board of the Sherman Oaks Homeowners Association (SOHA) who thoroughly reviewed the proposal request, held community forums, and engaged in meaningful conversations that led to this result.
IMPROVING TRAFFIC SAFETY AT LILA
Council District 4 is working with LILA leadership to improve traffic safety conditions along Russell Ave leading into the school campus. While a range of improvements are currently under discussion, our shared goal is to have these improvements in place before the next school year begins, as well as a new plan for decreasing the number of trips down the street. More will be communicated as these discussions become finalized through this summer.
---
CD4 IS HIRING! APPLY TO BE OUR NEXT HOMELESSNESS LIAISON
Our team is looking for a Homelessness Liaison! Duties will include conducting outreach and field visits to people experiencing homelessness, facilitating service delivery, and working collaboratively with other governmental and nonprofit entities to ensure effective delivery — an ideal candidate will have a passion for and commitment to addressing homelessness. For more information and to apply, click HERE.
FIGHT THE CLIMATE CRISIS ON A  LOCAL LEVEL AS A CA CLIMATE ACTION CORPS FELLOW
In May, we announced that CD4 will be hosting two California Climate Action Corps Fellows through AmeriCorps! Each Fellow will help lead on a different climate-related project in CD4 over an eleven month period starting in September — one focusing on composting and food recovery, and the other on wildfire prevention and preparedness.  
[INSERT IMAGE] 
Fellows will receive a stipend and living expenses! Click on the links HERE and HERE to learn more about each Fellowship, and for information about how to apply.
THE LA DEPARTMENT OF TRANSPORTATION NEEDS CROSSING GUARDS!
The Los Angeles Department of Transportation is hiring Crossing Guards! LADOT has several vacancies in the crossing guard program and is actively recruiting to fill these critical positions for enhancing the safety of students, specifically those walking and cycling in school zones. 

For more information on becoming a crossing guard, click HERE, and to apply, click HERE.
---

LOS FELIZ & GRIFFITH PARK
Griffith Park Drive Closure
Date/Time: June 27 through Summer
Location: Griffith Park Drive at Travel Town and the gate near Mt Hollywood Drive
Details: In collaboration with our office, the Department of Recreation & Parks is piloting this closure to observe the effects on eliminating cut through freeway traffic and excessive speeding, and work towards making roads safer for passive recreation. Any unforeseen impacts on park operations will be addressed immediately.
Contact: Tracy James with Recreation & Parks at 323 661-9465 / [email protected].
Barham Blvd Mainline Improvement Project
Date/Time: NOW to early July 2022 / M-F from 7 AM to 7 PM at onset, occasional Saturday work 
Location: Barham Blvd. from just south of Craig Dr. to just south of Lakeside Plaza Dr.
Qs & Concerns:  Community Affairs Director Michael Ventre at 213-367-1381 or [email protected]
Details: With final work by LADWP connecting laterals to finish up, the mainline is otherwise complete with an expected end time of early July.
HOLLYWOOD + HOLLYWOOD HILLS
Runyon Canyon Holiday Hours 
Date/Time: Sat July 2 - Mon July 4 / Closing 5 PM
Location: Runyon Canyon Park
Details: Runyon Canyon will close promptly at 5:00PM during the July 4th holiday weekend.
RESEDA
Bus Boarding Island Construction 
Date/Time: Spring to Fall 2022
Location: Reseda & Strathern / Reseda & Saticoy
Details: The City will construct eleven concrete bus boarding islands at nine intersections (platforms separated from the sidewalk by a bike lane) on Reseda Blvd. Boarding islands improve safety and transit efficiency. Impacts may include partial road closures, traffic delays during peak hours, and temporary bus stop relocation or closure. For more information, click HERE.
Contact: [email protected] / (213) 978-0333 
---
Our Office:
Services + Resources
Alerts