Dear Friends, 
The first few months of 2023 have brought unprecedented winter storms, the intensity of which California has not seen in many years. While the rain has been a salve against the city's ongoing drought, it has been a frustrating experience for many residents who have lost power over several cold and wet weekends. 
Following the most recent storm that left several thousand people in Council District 4 without power for extended periods of time, our office has been working with our partners at LADWP to set up a virtual meeting for our constituents to hear directly from the department, and have the opportunity to pose questions to them. 
We invite you to please join us on Wednesday, March 22nd, from 6:00PM-7:30PM via Zoom for a virtual information session with LADWP to learn more about what should be expected of the department during a storm-related outage, their plans for changes in storm response, what resources are available to residents, and how you can be better prepared. There will also be an opportunity for Q&A. 
Please complete this form to RSVP and submit any questions you have regarding the Department's response to impacts on the City's power and water systems during severe weather events.  
We look forward to seeing you virtually next week!
With love, 
Councilmember Nithya Raman
---
I. Updates From CD4— Outreach With Congressman Schiff, New Land Parcel For Griffith Park, Remembering Los Feliz Resident Chris Boutelle
II. Upcoming Events — Amestoy Ave Pedestrian Overcrossing Pop Up, CD4 Conversation With LADWP, Free Organics Recycling Pail Pickup, Community Potluck, West San Fernando Valley Disaster Preparedness Fair
III. Forums — Los Angeles Housing Element Webinars 
IV. Jobs Bulletin — LA Zoo Paid Internship, Apply To Be An LA River Ranger
V. Construction & Closures — Encino Ave, Griffith Park Blvd
VI. Other Helpful Links
---

CONDUCTING OUTREACH ALONG THE LA RIVER WITH CONGRESSMAN SCHIFF
On Monday, I joined Congressman Adam Schiff to announce nearly $1 million in additional funding for Council District 4's LA River Encampment Resolution Grant. We met with our partners at PATH to conduct outreach along our shared portion of the LA River and highlight the unique challenges posed by homelessness in this area and why this infusion of funds is so essential to make change.  
I used to walk this same route years ago, getting to know unhoused residents along the river with the volunteer organization I co-founded. I saw firsthand how difficult it can be for caseworkers just to access the area, let alone come on a regular basis. With these additional federal funds from Congressman Schiff on top of our $1.7 million grant from Governor Newsom, we are able to hire enough staff to do outreach here every day and assist these residents into housing.
ANNOUNCING A NEW LAND PARCEL FOR GRIFFITH PARK 
On a rare sunny day last week, I stood under the iconic Hollywood sign with the Los Angeles Parks Foundation to announce the acquisition of a new parcel of land for Griffith Park! With donations from various organizations including the West Valley Alliance for Optimal Living, Friends of Griffith Park, Bob & Joan Young, Annette Sikhand, and a contribution from our office, we were able to donate this land to the City to remain a public asset. 
As the population increases and the need for park space increases with it, the addition of this parcel of land will help conserve open space for users of Griffith Park and a public benefit to the residents of the city.
REMEMBERING LOS FELIZ RESIDENT CHRIS BOUTELLE
This past weekend, I joined the Franklin Hills Residents Association to honor the life of the late Chris Boutelle and dedicate a plaque to his memory on the historic Shakespeare Bridge. Although I never personally met Chris, his legacy and commitment to Franklin Hills, and the greater Los Feliz community, serves as an inspiration to all those looking to make a meaningful change in our City. 
Reading through The Overview, it was a joy to hear all the stories people had about Chris, showing just how impactful he was. Many talked about how Chris was always there to assist, and how he was always a positive influence in the community, from his stairway cleanups to disaster preparedness meetings. Chris helped make Franklin Hills a cohesive neighborhood, united by the love of community, and his loss will be felt immensely. 
---
AMESTOY AVENUE PEDESTRIAN OVERCROSSING POP UP | MARCH 18 | MORE INFO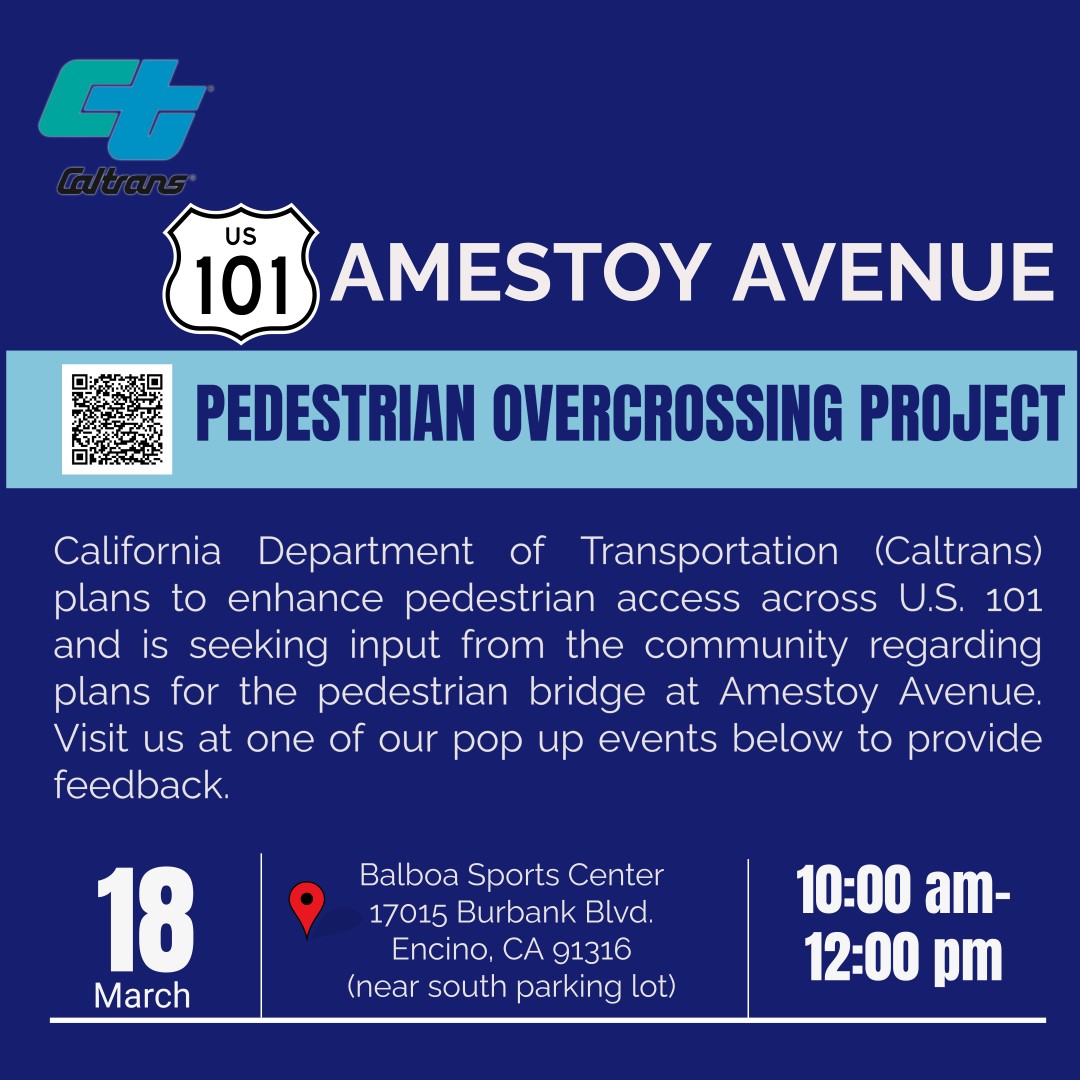 Do you walk or bike in the Encino area? Stop by CalTrans' pop-up event on Saturday to share your feedback on plans for the Amestoy Ave. pedestrian bridge over US 101! You can also fill out this online survey to share if there are any features that you might want to see. 
DATE: Friday, March 18
TIME: 10:00AM - 12:00PM
LOCATION: Balboa Sports Center, 17015 Burbank Blvd, Encino, CA, 91316
CD4 CONVERSATION: LADWP STORM RESPONSE | March 22 | MORE INFO
As mentioned in my letter above, my office will be hosting a virtual information session with LADWP to discuss recent severe weather events and improving future storm response. 
We encourage you to RSVP and submit any questions you have regarding the Department's response to impacts on the City's power and water systems during a storm.
DATE: Wednesday, March 22
TIME: 6:00PM - 7:30PM
Click HERE to RSVP! 
FREE ORGANICS RECYCLING PAIL PICKUP | MARCH 25 | MORE INFO 
To make the transition to organics recycling easier, LA Sanitation and LA City Council District 4 are providing FREE dishwasher-safe countertop pails! For more information and to RSVP, visit cd4.lacity.gov/events and to reserve a pail in advance click HERE! 

Los Feliz (Los Feliz Branch Library)
Saturday,  March 25th, 10AM to 12PM
Encino (Encino Park at the corner of Ventura Blvd & Paso Robles Ave)
Sunday, March 26th, 10:30AM to 12:30PM
CD4 COMMUNITY POTLUCK | MARCH 25 | MORE INFO
Our first potluck will be held on Saturday, March 25th from 12:30PM - 4PM in Hollywood. We're asking volunteers to donate and collect items to build hygiene kits including, toothbrushes, toothpaste, new underwear and socks, shampoo and conditioner, deodorant, and more, as well as non-perishable snacks to make to-go sack lunches. Volunteers are also welcome to bring a ready-to-eat dish prepared by a permitted food-service operator to share over a communal lunch! 
RSVP HERE to join us! We hope to see you there — especially with your favorite dish, board game, or craft!
WEST SAN FERNANDO VALLEY DISASTER PREPAREDNESS FAIR  | MARCH 25 | MORE INFO
Join our office and partners across the City for a Disaster Preparedness Fair on Saturday, March 25 from 9AM to 3PM. Gather information and resources to best prepare for an emergency or disaster, ranging from severe weather events to earthquakes. Hear first-hand from community responders, organizations & providers.
DATE: Saturday, March 26
TIME: 9AM to 3PM
LOCATION: Pierce College, 20498 Victory Blvd, Woodland Hills, CA, 91306
---
LOS ANGELES HOUSING ELEMENT WEBINARS | MARCH 28, 29, 30 | MORE INFO
Following State certification of the 2021-2029 Housing Element last year, LA City Planning is working to develop and implement the ambitious programs identified in the Plan to House LA. The department is launching a new Housing Element Rezoning work program with a series of interactive webinars for the public to learn more about the Housing Element citywide rezoning program. 
LA City Planning is kicking off the Launch and Listening Phase of the work program and seeking your feedback on the development of six of the strategies implementing the Housing Element rezoning program framework. In March 2023, they will host three interactive webinars to share more about the initial concepts and strategies for the program and to collect input. Note that the content of all three webinars is the same.
March 28, 2023 from 5:30PM-6:30PM
March 29, 2023 from 5:30PM-6:30PM (Spanish)
March 30, 2023 from 11:30AM-12:30PM
---
APPLY FOR THE LA ZOO'S PAID INTERNSHIP PROGRAM | MORE INFO
The Zoo is excited to launch the recruitment of their second year of the Los Angeles Zoo's Paid Internship Program! This year the program is expanding to offer 18 students the opportunity to participate in a 10-week program with the Zoo's Conservation or Learning & Engagement teams. 
This internship is available for college students from identities that have been systemically-excluded from the zoo and conservation fields, including Black, Hispanic, Indigenous, and all other people of color, members of the LGBTQIA+ community, and those with varying abilities.  Program participants must be a resident of the City of Los Angeles.  
Apply HERE! Deadline to apply is March 27th. 
APPLY TO BE AN LA RIVER RANGER | MORE INFO
LA River Rangers is a Jobs Program for youth ages 18-26 who would like to help clean, beautify, and maintain public areas along the Los Angeles River. 
Apply online HERE!
---
To stay up to date on closures, follow @LADOTofficial on Twitter, and check out their updates page.
ENCINO & SHERMAN OAKS
Encino Ave
Date/Time: Friday, March 17
Location: Encino Ave from Killion St. to Weddington St. & Encino Ave from Weddington St. to Magnolia Blvd
Details: Streets LA has advised that street resurfacing will take place at two locations on Encino Ave on 3/17.
 Contact: George Watson, Paul Bingaman, Gary Brandt or George Gopaul, 818 756.8651
LOS FELIZ & GRIFFITH PARK
Griffith Park Drive
Date/Time: Wednesday, March 8 - Saturday, March 18, between the hours of 6:30AM to 3:30PM
Location: Griffith Park Drive from the Composting area down to Travel Town Museum 
Details: The Park Services Office has been advised by Commercial Paving that they will begin road re-striping on Griffith Park Drive Wednesday, March 8th through Friday, March 10th. During this time no vehicle, pedestrian and bicycle traffic will be permitted on Griffith Park Drive from the Composting area down to Travel Town Museum.  All vehicles, pedestrians and bicycle traffic will need to go around via Zoo Drive and Crystal Springs Drive to Griffith Park Drive.  
 Contact: Park Services Office, (323) 661-9465
Griffith Park Blvd
Date/Time: Thursday, March 30 - Monday, April 10
Location: Griffith Park Blvd from Rowena Ave to St. George St
Details: Streets LA has advised that cold mill prep and street resurfacing will take place on Griffith Park Blvd from 3/10-4/10. They ask that residents adhere to the temporary No Parking signs to ensure resurfacing projects are completed on time.  StreetsLA is making every effort to minimize the need for parking enforcement by providing residents with updated street work schedules.
Contact: Superintendent Staff, 213.485.1860 
---
Our Office:
Services + Resources
Alerts